CARBON GRAVEL RIMS 700C HOOKLESS TUBELESS READY 28MM WIDE
---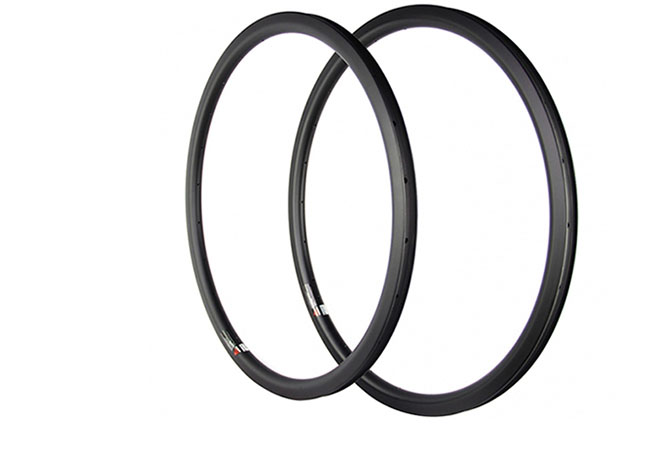 DESCRIPTION
The Ornan 700C disc-type carbon gravel bike is a recommended series without hook wheels.
Ornan engineers have made bold improvements to remove the hook design to accommodate larger tires. more forgiving surface during bottom outs protecting the tire from the dreaded pinch-flat. The forward-looking Ornan engineers carbon gravel rim uses our Wide Hookless Bead anti-flat technology to combat ride-ending pothole encounters. With an inner rim width of 23mm, the Ornan 730 is designed to be paired with gravel treads between 35 and 45mm. tires in these widths provide control and traction that optimize the experience of carbon gravel riding endeavors.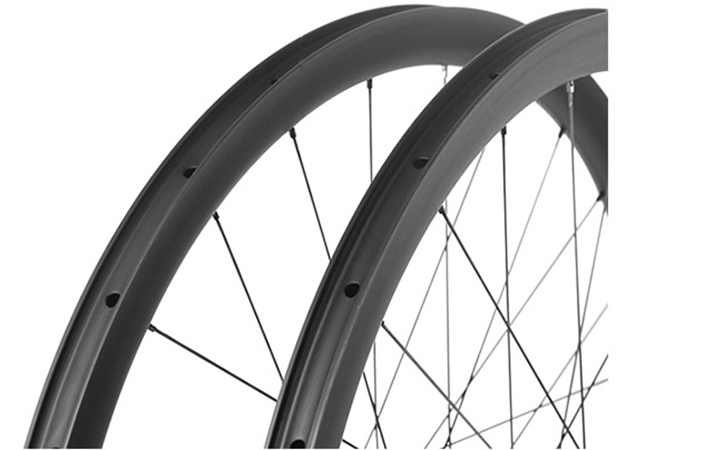 FEATURES:
- Hookless tubeless design provides secure performance
when ridden at lower tire pressures
- Internal width 23mm rim profile creates a better tire
interface to be fast on or off the road
- Aerodynamic advantage
- Gravel/cyclocross carbon wheels
- Hubus optional: DT Swiss or Powerway hubs
- Sram XDR or Shimano 11S driver bodies
- 2 years' quality warranty
---
SPECIFICATIONS
| | | | |
| --- | --- | --- | --- |
| Model | Orn730-33C | Orn730-44C | Orn730-55C |
| Cross Section | | | |
| Sectional Drawing | | | |
| Material | T700 & T800 | T700 & T800 | T700 & T800 |
| Use | Road/Gravel | Road/Gravel | Road/Gravel |
| Type | Clincher | Clincher | Clincher |
| Tubeless | Ready | Ready | Ready |
| Internal/External Width | 23mm/28mm | 23mm/28mm | 23mm/28mm |
| Depth | 33mm | 44mm | 55mm |
| ERD | 579mm | 557mm | 535mm |
| Weight | 370+/-15g | 410+/-15g | 440+/-15g |
| Weight Limit | 125kg | 130kg | 135kg |
| Spoke Tension | 115 ~ 130kgf | 115 ~ 130kgf | 115 ~ 130kgf |
| Max Tire Pressure(with 25C) | 70psi / 4.83bar | 70psi / 4.83bar | 70psi / 4.83bar |
| Tire Recommended | 28C ~ 50C | 28C ~ 50C | 28C ~ 50C |
---
TECHNOLOGY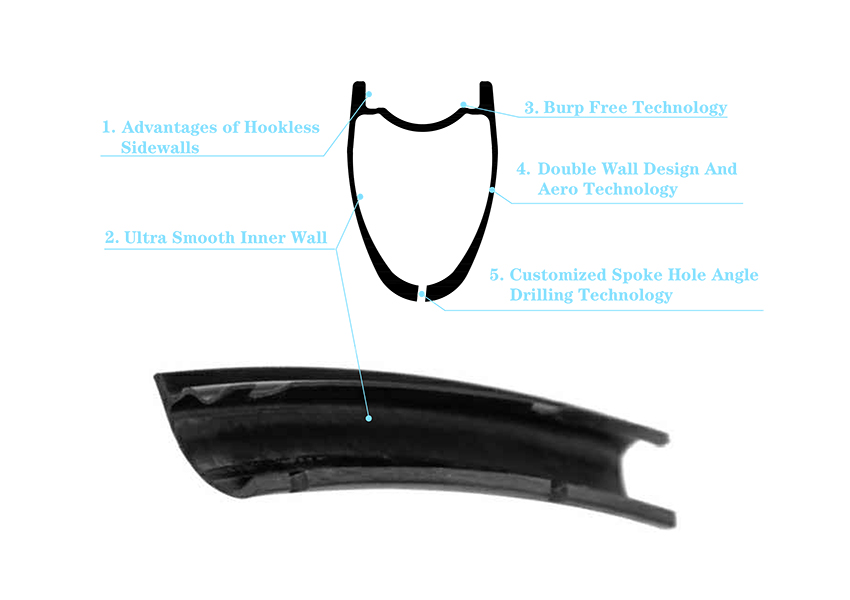 1. Advantages of Hookless Sidewalls
The bead of the hookless rim is straighter and smoother, and the tire can fully contact the rim wall. Compared with traditional hook rims, it is more durable and impact resistant. Provide more support during sharp turns.
2. Ultra Smooth Inner Wall
Use specific, thinner, high-pressure air bladders to control the inner wall smoothness, The result is that we could see a very clean and smooth inner wall, which means the carbon fabrics are stretched smoothly and optimized. This could ensure the best strength of the fabrics.
3. Burp Free Technology
When the tire is mounted, the raised portion reinforces the tire bead, making it harder to burp into the center channel.
4. Double Wall Design and Aero Technology
We use a double wall design to better control the rim strength and stiffness during layup. Rim profiles are specially designed with aero gains and drag reduction in mind.
5. Customized Spoke Hole Angle Drilling Technology
High-speed CNC machine tools drill carbon fiber rim spoke holes. Customized according to the geometric angle of the hub. Check all drill holes to make sure they are free of burrs.
MANUFACTURING PROCESS:
Our carbon fiber rims are formed in one piece, and each rim is made of long carbon fiber without wrinkles, to make the strength of the rim is the strongest. Every component, including the rim serial number, airbag, and carbon fiber prepreg, is collected, inspected, and weighed to confirm that everything has been taken into account.
Read more about carbon rim manufacturing process: link here
100% QUALITY INSPECTION:
In the production process of each carbon fiber rim product, Ornanbike strictly conducts 100% quality inspection and records it in the database. Each carbon fiber rim has a unique ID number, which allows us to provide the highest quality products and track each rim To ensure the best after-sales service.
Read more about carbon rim quality control: link here
WARRANTY POLICY:
Coverage: 2-year warranty from the date of purchase.
Conditions:
1. The Standard Warranty program is not transferable and only applies to the initial purchaser. Valid proof of purchase, pictures of the defect, video, and the product serial number is required for a warranty claim.
2. If any manufacturing defect occurs within 90 days of the date of being received, Ornan Bike is obligated to replace the carbon rim and pay for the shipping cost. If any manufacturing defect occurs after 91 days and up to 2 years, Ornan Bike is obligated to replace the carbon rim, and the customer is responsible for the shipping costs.
3. Any problem found on the warranty replacement product should be claimed within 7 days after the replacement is received, otherwise, the replacement is viewed as settled. The warranty period applies to the original purchase date and does not reset with a replacement rim.
Warranty coverage does not cover:
1. Normal wear and tear (spokes, nipples, rim tape, decals, stickers, etc).
2. Improper assembly or maintenance, including maintenance by an unauthorized technician.
3. Damage or failures caused by a crash, accidental damage, misuse of the product, non-compliance with manufacturer specifications of usage, or any other fractious reasons.
CLAIMS FOR DAMAGE OR LOSS OF SHIPMENT:
Please thoroughly inspect the package before signing.
1. If there is no damage, sign for the product. If there is damage, report this on the delivery slip or, alternatively, refuse the shipment and it will be returned to Ornan Bike. If a claim is made against the shipping company, they will provide a compensation number. Please inform Ornan Bike of this number for delivery tracking. Arrangements for reshipment will be made within 10~15 business days upon receiving the returned item.
2. If the items are damaged but accepted and not reported, there is no recourse against the delivery company and you are responsible for purchasing any replacement product.
3. If the package is in good condition, but the product is significantly damaged in transit, please keep the waybill, packaging and the shipment gets lost in transit, please get in touch with us (info@ornanbike.com) immediately and all Ornan Bike packages have been covered by insurance.
---

CHOOSE YOUR FAVORITE HUB ASSEMBLE WHEELS
HUBS
Spoke

Nipples

Driver Body

Brake System
Front Thru Axle

Rear Thru Axle

Front Count
Rear Count
DT SWISS 180 Ratchet EXP 36


Sapim CX Ray



Sapim Self-Locking

Shimano 11S

or

Sram XDR

Center Lock
12 x 100mm
12 x 142mm
24H
24H
DT SWISS 240 Ratchet EXP 36


DT SWISS 350 Ratchet 18




Sapim Race

Sapim Self-Locking




Shimano 11S



P

owerway-CT31




Pillar 1420

or

Pillar 1423

Pi

lla

r




Shimano 11S

or

Sram XDR

Powerway-CT11A