ABOUT ORNAN BIKE
Ornan Bike is specialized in manufacturing carbon bike rims and other accessories since 2010. With 25 professional R&D engineers, 200+ employees and 4000 m2 workshop, we offer one-stop solution for carbon wheels or frames developing, quality testing and mass productions, to bring you superior quality and unique designs (support OEM and ODM). Our month capacity is around 5500 pcs carbon rims and 1500 pairs of carbon wheels.
Together with Ornan, save your cost.
---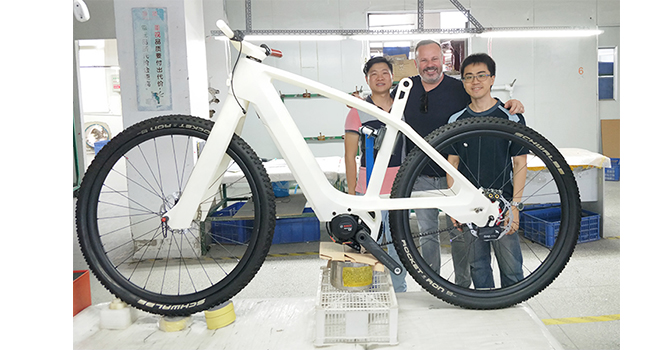 Our GM Jeff (Left first) has been involved in carbon bike industry for around 10 years, with rich experience in developing and designing bike frames and rims. He has deeply cooperated with world famous brand De Rosa, Scott, Specialized, and so on... to research and produce some unique carbon bikes for them, which make them receive high comments from their customers.
Jeff took up the development and design of carbon wheels from 2017. After about one year, he got his own reputation in this industry.
In 2020, COVID-19 spread all over the world. At that time, Ornan Bike saw the huge demand for bike in global market. It invited Jeff to join the company as a partner to be responsible for researching, developing and selling of bike wheels, rims, frames and other products.
---
WHY CHOOSE US?
1, Cost advantage: With own researching, manufacturing and assembling workshops, one stop solution with high cost advantage.
2, Professional teams: 2D & 3D carbon rims, frames and other products design, customized logo & decals design, brand vision design.
3, Rich experience: All wheelsets are hand built and trued by experienced mechanician.
4, 100% Inspected: Our carbon rims are rigorously tested under international standard ISO4210.
5, LOW MOQ: Only 1 unit with customized design and logo is available.
6, 24/7 support service: Ensure your any demand to be response in time.
7, Warranty: 2 years quality warranty.
---
ORNAN BIKE CARBON WHEELS/RIMS FACTORY VIDEO
* For more information about wheels, click here: MTB Wheels, Gravel Wheels, Road Disc Brake, Road Rim Brake, Carbon Spokes.